Meet the Artists
Carla Gover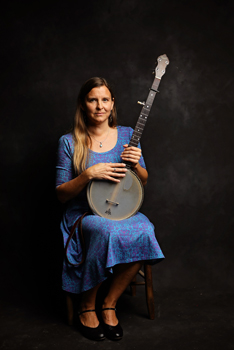 Carla Gover is a seventh-generation Kentuckian who hails from a small coal town in Eastern Kentucky, and her rural sensibilities permeate the work that she does and the music that she plays. She is the artistic director and founder of the artist collective and Folk Opera Cornbread & Tortillas, and uses her expertise in the arts, education, social justice and community organizing to build cultural bridges that celebrate both the traditional culture of Kentucky and the cultures of Latino immigrants more recently arrived in the state. She holds undergraduate degrees in Appalachian Studies and Spanish, and a graduate degree in teaching World Languages/Spanish from the University of Kentucky.
She is also an award-winning singer-songwriter, with wins at the Kerrville New Folk Festival and Merlefest's Chris Austin Song Contest. In addition to her performing career, she has over twenty years of experience as a teaching artist in Appalachian music and dance and is active in community building, multi-disciplinary arts projects throughout Kentucky. The Old-Time Herald says, "Carla's music contains the best elements of traditional Appalachian Music, including purity, intensity, integrity, and vivid imagery."
Carla is on the staff of the Cowan Creek Mountain Music School in Letcher County, K.Y., The Louisville Folk School, and the Singing Bird Music School in Berea, K.Y.
Arlo Barnette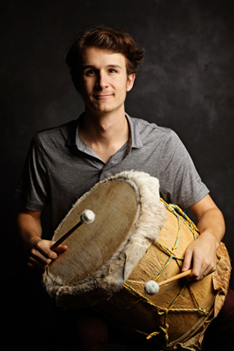 Arlo Barnette is an accomplished guitarist and percussionist from the mountains of Bath County, Kentucky, who has studied many styles (including traditional Kentucky music) from a young age. He is a graduate of Morehead State University with degrees in English and Spanish.
His stylistic range and formidable chops add flavor and virtuosity to the band, and his charismatic performance style makes him a joy to watch onstage. He also performs with the bands Zoe Speaks and CornMaiz.
Zoey Barnette
Zoey Barnette is the daughter of Carla Gover and was raised on the road with her musical family. She has been fiddling since the age of five, learning from such Kentucky greats as Paul David Smith, John Harrod, Jamie Wells and Jimmy McCowan. She later tacked on upright bass, guitar, piano and banjo to her repertoire of instruments, taking time to develop her songwriting and harmony-singing chops along the way. She attended the School for the Creative and Performing Arts in Lexington, K.Y., and currently performs in the ensembles CornMaiz, Cornbread & Tortillas, and Zoe Speaks, in addition to pursuing her work as an artist and stylist.
Carla, Zoey and Arlo also perform with the acclaimed group Zoe Speaks, touring all over the country and performing at such venues as The Kennedy Center, Merlefest, Godfrey Daniels and The Freight & Salvage. Acoustic Guitar Magazine calls her "one of the 30 essential artists of the next generation."
Marlon Obando Solano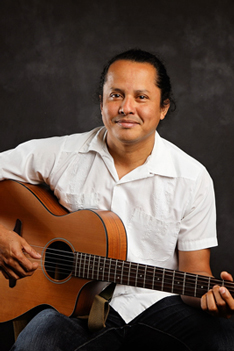 Marlon Obando Solano is a musician, activist and craftsman who grew up in rural San Lorenzo, Nicaragua learning about and utilizing the abundant resources the natural environment provided. As a trained archaeologist, he traveled throughout Latin America studying the traditional use of sustainable, organic materials, which he and his wife now use to create jewelry and sculpture. They are actively involved in reforestation efforts in Nicaragua.
Fernando Moya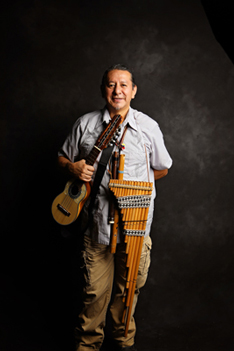 Fernando Moya is a tradition-bearer, musician and instrument maker from Quito, Ecuador. He makes and plays traditional Andean flutes (zampoñas) as well as the charango, an Andean stringed instrument. Through his musical virtuosity and vast knowledge of the traditional music of the Andes, he shares the joy and beauty of his homeland with thousands of listeners throughout the U.S.
Yani Vozos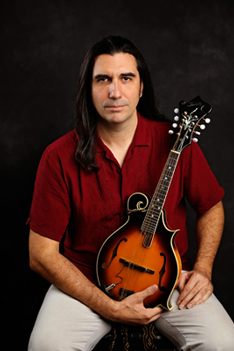 Yani Vozos is a singer/songwriter and multi-instrumentalist (guitar, mandolin, charango,and sitar) originally from Estill County, K.Y. He performs original music in many styles ranging from acoustic folk-rock rhythms to funky jazz grooves to traditional old-time and bluegrass, as well as the Latin music he began exploring during his service for the Peace Corps in Honduras. His music is upbeat with writing that focuses on positivity and universal spiritual connections with the earth that everyone can relate to. Yani writes music directly from his heart with the intention of sending out vibrations of love and joy to inspire people around the world. In addition to his performing career, he regularly teaches workshops in schools around the state of Kentucky, with an emphasis on creating increased access to the arts for underserved populations, refugees and immigrants.
Yani, Marlon, Steve and Fernando are also part of the all-acoustic Louisville band, Appalatin, founded in 2006, which combines the old time music of Kentucky musicians with the high-energy Latin music of émigrés from Ecuador, Nicaragua and Guatemala. They received the Americana Award from the Louisville Music Awards Academy in 2014, are featured in an Emmy-nominated PBS-affiliate documentary in the Kentucky Muse series and released their third album in 2018.
Paulina Vazquez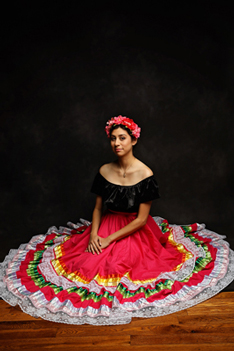 Paulina Vazquez is a 27-year-old dancer originally from Omaha, Nebraska, who has trained since the age of three in the classic Ballet Folklórico Mexicano dance style. Her mother's family is from Mexico City, a fascinating and beautiful capital. Her father is from San Miguel el Alto, which is in the state of Jalisco.
She received training at the studio of her Aunt Magdalena Garcia, who owns El Museo Latino, the first Latino Art and History Museum and Cultural Center in the Midwest. Paulina grew up with a sense of the importance of community involvement and also with a natural love for music. Her passion is in expressing herself with art; a mixture of song, dance and painting. She plays both piano and guitar and has been singing since she was very young. She has been in a number of different choirs, one being the Nebraska Children's Chorus and is classically trained in piano, dance and voice. She is versed in the percussive dance styles of 10 different Mexican states and has been performing for over 20 years.