Current Research Projects
A selection of current faculty research includes:
Appalachian Journal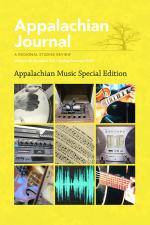 Appalachian Journal has published its first special edition on Appalachian music. This double issue (vol. 42, nos. 3-4) is the largest one in the journal's 42-year history, with 300-plus pages and 60-plus contributors. Guest editors Mark Freed and Trevor McKenzie are both musicians and music teachers who kick off this issue with a roundtable discussion: 25 musicians, teachers and scholars who select and describe their Appalachian "Top 10" playlists, offering lively defenses of their choices. There are new poems, film reviews of music documentaries, articles on Appalachian musicians (Bascom Lamar Lunsford, Charlie Poole) and the Bristol Recording sessions, and in-depth interviews with the Krüger Brothers and Bill Withers, who delve into issues of creativity, identity, regionalism and much more.
Musician Sue Massek provides "Herstory," describing her musical roots and influences of Appalachian women on her own work. Massek stars as Sarah Ogan Gunning in "Precious Memories," an innovative one-woman play by singer/songwriter/activist Si Kahn, featured in this issue. Grammy-winning musician, storyteller and television host David Holt provides a photographic essay featuring many of his Appalachian "Heroes & Mentors." Artist, musician, folk music fieldworker/scholar Art Rosenbaum and photographer/painter Margo Rosenbaum also contribute their art to this issue.
Ethnomusicologist Dave Wood describes both the blessings and the curses of musical transcription in his review of Clare Milliner and Walt Koken's "The Milliner-Koken Collection of American Fiddle Tunes." Reviews of "Pretty Good for a Girl," "Wayfaring Strangers," other books and a landmark Doc Watson CD collection round out this special edition. The "Chronicle" and "By the Numbers" highlight recent news and facts from across the Appalachian region.
Visit http://appjournal.appstate.edu for more information. Annual subscriptions are $24 a year or $20 for this double issue. To order a copy or subscribe, send your name, address and payment to Appalachian Journal, Belk Library, Box 32026, Appalachian State University, Boone, NC 28608.
---
International links
The Center for Appaachian Studies has been developing international links to focus on collaborative opportunities to address the challenges to sustaining rural mountain communities. Across the faculty and students, the Center for Appalachian Studies has recently engaged with scholars of mountain regions in Austria, Canada, Romania, the Ukraine, and Wales. This work will support faculty and student exchanges in the sciences, social sciences, and humanities. Contact Dr. Juie Shepherd-Powell at shepherdpowellja@appstate.edu for more information.
---
After Coal
After Coal profiles inspiring individuals who are building a new future in the coalfields of eastern Kentucky and South Wales. This hour long documentary invites viewers to the front lines of the transition away from fossil fuels. The stories of coalfield residents who must abandon traditional livelihoods resonate with viewers who face dramatically changing economies. Viewers meet ex-miners using theater to rebuild community infrastructure, women who moved from supporting striking miners to creating their own future, and young people striving to stay in their home communities. Music plays a major role in this documentary essay, linking the two regions and providing cultural continuity that sustains communities through rapid change. Contact Mr. Tom Hansell at hansellts@appstate.edu for more information.
---
Study Guides
During the fall semester of 2020 graduate students in our Appalachian studies program collaborated with the Ashe County Arts Council to develop a series of online resources to help local artisans safely market to county's cultural assets to a broad audience.
Students worked with the Arts Council and local residents to develop study guides that will introduce elementary school students to rich local traditions. These study guides are aligned with the state of North Carolina's educational standards.
Ashe County Barn Quilt Study Guide
Ashe County Food Ways Study Guide
Publications
Voices from the Headwaters
$39.95 (plus $4 for S&H for first copy; $2 S&H for each additional copy)
Table of Contents (DOCX), Front and Back Covers (PDF, 3.4 MB), Order Form (PDF)
Patricia D. Beaver and Sandra L. Ballard, Editors
Brittany R. Hicks, Assistant Editor
---
The Cratis Chronicles: I Come to Boone
$14.95 (including S&H)
Order Form (PDF)
David Cratis Williams and Patricia D. Beaver, editors
---
Neighbor to Neighbor: A Memoir of Family, Community, and Civil War in Appalachia
$25.00 ($2.00 for S&H for first copy; $1.00 for each additional copy)
Order Form (PDF)
Edited by Sandra L. Ballard and Leila E. Weinstein
---
Tales from the Sacred Wind: Coming of Age in Appalachia
Available from: McFarland & Company, Inc., Publishers
Cratis D. Williams
Edited by David Cratis Williams and Patricia D. Beaver
---
Letters From Leo
$9.00 US (including S&H)
Order Form (PDF)
A Collection of Letters from Asheville native Leo Finkelstein to the Asheville Lions Club during World War II -- filled with humorous insight.
---
Leo Finklestein's Asheville and the Poor Man's Bank
$10.00 US (including S&H)
Order Form (PDF)
Patricia D. Beaver, editor
Kathryn L. Staley, associate editor