Teaching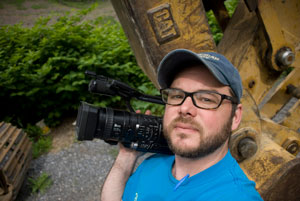 The Center for Appalachian Studies actively engages students in documenting regional culture and history as well as recording efforts to create sustainable communities and economies in Appalachia. AS 5040: Documentary Research Methods is one of many research methods courses offered in the MA program.
Graduate students working at the Center for Appalachian Studies have the opportunity to practice hands-on documentary techniques to record their research and disseminate their projects to a broad audience. While earning an MA in Appalachian Studies, student will learn best practices for documenting Oral Histories, Folklore, and Ethnomusicology. Recent examples of student documentary work include Laura Brookshire's film on beekeeping in the High Country of North Carolina and Tim McWilliams' film on the band Redleg Husky.
Research
Assistant Professor of Appalachian Studies Tom Hansell and emeritus Professor Patricia Beaver have also been working on a comparative documentary project since 2011. "After Coal: Welsh and Appalachian Mining Communities" is a documentary and community engagement project that explores vital questions including:
What happens as fossil fuels run out?
How do communities and cultures survive change?
And, how can we share lessons across borders?
The social, economic, and environmental challenges to Wales and Appalachia in recent decades are at times tragically similar: increasing unemployment, environmental devastation, and the challenge of redefining community identity. The Welsh coalfields were shut down in the 1980's, with a loss of more than 20,000 jobs. Meanwhile, the Appalachian coalfields lost over 70,000 mining jobs between 1980 and 2000, and the U.S. Energy Information Administration predicts Central Appalachian coal production will be cut in half this decade.
The goal of After Coal is to facilitate conversations about how to create sustainable communities in former coal mining areas. We are sponsoring a series of public forums in eastern Kentucky in the Fall of 2014, and plan to broadcast the project on television and radio during 2015. For more information, go to www.aftercoal.com.
Tags: