Appalachian Journal has published its first special edition on Appalachian music. This double issue (vol. 42, nos. 3-4) is the largest one in the journal's 42-year history, with 300-plus pages and 60-plus contributors. Guest editors Mark Freed and Trevor McKenzie are both musicians and music teachers who kick off this issue with a roundtable discussion: 25 musicians, teachers and scholars who select and describe their Appalachian "Top 10" playlists, offering lively defenses of their choices. There are new poems, film reviews of music documentaries, articles on Appalachian musicians (Bascom Lamar Lunsford, Charlie Poole) and the Bristol Recording sessions, and in-depth interviews with the Krüger Brothers and Bill Withers, who delve into issues of creativity, identity, regionalism and much more.
Musician Sue Massek provides "Herstory," describing her musical roots and influences of Appalachian women on her own work. Massek stars as Sarah Ogan Gunning in "Precious Memories," an innovative one-woman play by singer/songwriter/activist Si Kahn, featured in this issue. Grammy-winning musician, storyteller and television host David Holt provides a photographic essay featuring many of his Appalachian "Heroes & Mentors." Artists, musician, folk music fieldworker/scholar Art Rosenbaum and photographer/painter Margo Rosenbaum also contribute their art to this issue.
Ethnomusicologist Dave Wood describes both the blessings and the curses of musical transcription in his review of Clare Milliner and Walt Koken's "The Milliner-Koken Collection of American Fiddle Tunes." Reviews of "Pretty Good for a Girl," "Wayfaring Strangers," other books and a landmark Doc Watson CD collection round out this special edition. The "Chronicle" and "By the Numbers" highlight recent news and facts from across the Appalachian region.
Visit http://appjournal.appstate.edu for more information. Annual subscriptions are $24 a year or $20 for this double issue. To order a copy or subscribe, send your name, address and payment to Appalachian Journal, Belk Library, Box 32026, Appalachian State University, Boone, NC 28608.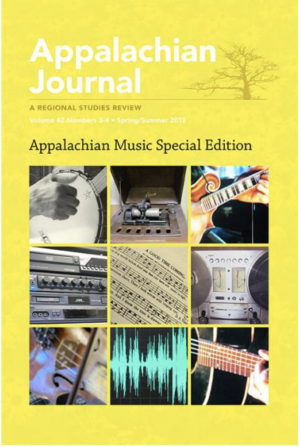 Tags: