The Appalachian State College of Arts and Sciences invites you to the 2022 Mountain Studies Lecture featuring Dr. Edwin Bernbaum, author of Sacred Mountains of the World.
Date: Thursday, September 29, 2022
Time: 6-9 p.m. (Doors open at 6 p.m. Lecture begins at 6:30 p.m. Book signing to follow.)
Format: In Person
Location: Parkway Ballroom, Room 420, in the Plemmons Student Union
Description: From the Appalachians to the Himalayas, people look up to the heights for inspiration, renewal, life-giving water, healing, and various other blessings. Drawing on personal experiences, extensive research, and his work with National Parks and World Heritage Sites, Bernbaum takes us on a fascinating journey exploring the key role of mountains in the mythologies, religions, literature, history, and art of cultures around the world. Illustrated with spectacular photography, his lecture also delves into the spiritual dimensions of mountaineering and highlights implications for climate change and environmental conservation. The presentation includes the dramatic account of an avalanche Bernbaum was caught in on Annapurna, one of the highest and most sacred peaks in the Himalayas.
Details: This event is free and open to the public. No registration or ticket is required. For a disability accommodation, visit odr.appstate.edu.
For more information, visit cas.appstate.edu/events/mountain-studies-lecture-series.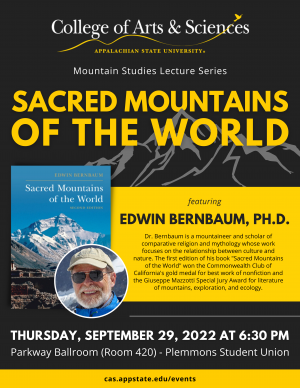 Tags: